Hauling Building Materials to Little Hawk, 1950. Photo courtesy of Neil Catherwood Left to right – Isaac Catherwood, his grandfather, Delbert Catherwood, his father, and Ken Catherwood his brother.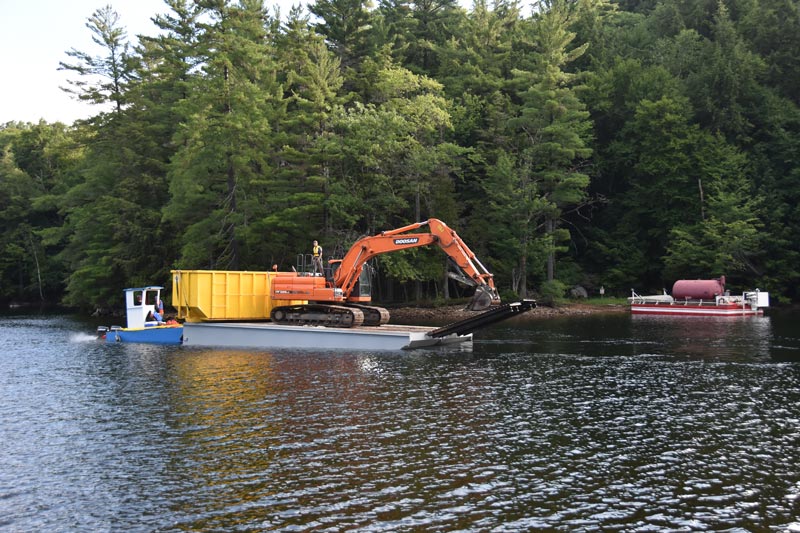 Once upon a time, cottagers like Alpha Warren Pinch[i] built cottages from logs that escaped from the log booms that were being driven to the Big Hawk log chute. Today the construction business is booming in the Algonquin Highlands with companies coming from afar to complete projects that local guys are too busy to undertake. At a later time prefabricated cottages were all the rage. In other cases, small cabins like the Moore's cottage on Little Hawk, were built in Toronto and then transported to the lake to be erected. No doubt we all have stories about how our waterfront property was built, without power tools, without electricity and many without road access even.
There are stories of men like Ewart Carruthers, one of the first Big Hawk cottagers, who purchased the property across from Scott's Point in 1947 after he visited Big Hawk on a fishing trip. In the early years, Ewart Carruthers would leave his job with Ford Motor Company in Windsor on a Friday of a long weekend and would drive for ten to eleven hours to get to Oakview Lodge. Then he would take one of those flat bottomed boats built by Pete Sawyer, with a three horse power motor, to his property four miles away, where his wife Mildred and their sons would stay for the summer. Others like the Bertram family came from Windsor as well in the late 1940's. The Bertram cottage was built by the grandfather Percival Wood and his sons Bud and Ken Wood, along with Fred Bertram. The "Windsor Connection" also included the Gibsons, the Perkins, the Hodgins, the Woods and the McGhees. All came with the same desire to enjoy the Highlands and were willing to endure the trials and tribulations of the long drive as well as the construction in the "wilderness". Both Jan Bertram and David Carruthers still remember the deadhead logs and driftwood stumps that needed to be cleared out in front of their cottages, sometimes just to make it possible to land the boat! Imagine running into an old floating stump after you have driven all night from Windsor to get to your Big Hawk cottage.
Dale Hearty also remembers the early days and the flat bottomed boats of Pete Sawyer that transported all the building supplies when his grandfather, Andrew Hearty, bought and built on Big Hawk in the late fifties/early sixties. Dale remembers the tents and the bugs too but most of all, that he loved it all! What a labour of love, just to have a place in the Algonquin Highlands!
And how the cottages have changed! As Mary Brereton describes the rudimentary Higgin's cottage built in 1945[ii], constructed of poplar logs, chinked with moss, probably found on the Halls Lake property. The cabin was small, composed of one main living area with a stone fireplace at one end and two small bedrooms partitioned off at the other, a small lean-to-like shed at the bedroom end with an adjoining door, and , at the opposite end, a kitchen, with a big black wood-burning stove and an ice box.
Today's real estate ads give one the picture of how times have changed. Now we see more commonly year-round large structures with a bevy of bathrooms. Ensuite bathrooms seem to be a must in today's new cottages, as opposed to a luxury double-seater privy. One used to be concerned about the ferocity of the bugs as you used the outhouse or how cold it was to go outside at night, if one didn't want to use the chamber pot. Nowadays we make sure that we have a generator to run the pump and all the appliances, lights and heat if the power goes out. Where one used to complain about how far it was to go to the outhouse, now some complain that there is a septic re-inspection program that forces us to be responsible for the maintenance of this system and in turn the quality of our lake water. One just can't take the environment for granted anymore.
Not so many years ago property owners were excited about telephone lines being installed. In fact in the early days of Camp Kawabi[iv], Don Henderson, whose father worked for Bell, was able to obtain some telephone line and two old crank style telephones which made it possible to install a communications link between Kawabi and the Kawabi Landing store.
Bob Hodgins also remembers that his father had a telephone cable connected from their family cottage crank phone to Jack Yeoman's which was three cottages to the north. It was meant to make it easier to connect with the neighbours. The phone line ran under water for part of the way. He also remembers that the phone would ring every time lightning hit the lake.
Today we worry about lightning strikes starting fires and can we count on the volunteer fire department to get here in time. Or some of us maybe worry when lightning strikes that a tree will come down on the lines and the power will go out. If you don't have a generator, you might just lose all that food in the fridge and freezer. Whereas back in the day, one counted on the Sawyers or the Hewitts[v] delivering ice several times a week for the cottagers' ice boxes.
Just think of the work involved in getting ice from the lakes in the winter, packing it in sawdust and storing it in ice houses through the summer months and delivering it with maybe a three horsepower motor on a flat bottomed punt. This was the "norm" until hydro lines were installed in the summer of 1949[vi] on Halls and around the Hawk Lakes in the late 1950`s and early 1960's.
The telephone system, like the availability of electricity, was quite revolutionary when it came to the area. Ben Sawyer was the Reeve of Stanhope at the time and as Nila Reynold's[vii] writes: It was the proudest boast of B.J. Sawyer… that his township financed and built the first telephone system in the Provisional County of Haliburton. Nila Reynold's also writes:
… the Maple Lake telephone exchange commenced October 3rd 1920….It is probable that Jean Scott (late Mrs. Rex Boice) was Stanhope's first telephone operator. She was succeeded by Misses Ruth and Rose Woodcock, Muriel Cowan, Violet Fader, Annie Deacon and Phrona Sisson, who in 1965 was still in the employ of the Dysart Municipal Telephone System at their Maple Lake exchange….. Stanhope was offered the first opportunity to build a long distance line connecting with the Bell system… A second trunk line, No. 19 connected Stanhope to Haliburton central and until Dysart and Minden were connected, all calls between the two had to be channelled through Stanhope central…There are a host of human interest stories about those initial years when Alexander Grahan Bell's "talking box" came to Stanhope… Imagine the hilarious and sometimes exasperating confusion when thirty-nine subscribers, each unfamiliar with their own or anyone else's number, shared that first phone line. Determined not to miss a moment of its entertainment, some of them answered every ring that came in…For the elderly, to whom time had become a burden, the phone offered a new lease on life. One old Minden gentlemen just about ready to take leave of life, became so interested in keeping track of his neighbours via the telephone, that he lived an extra ten years. Since everyone knew he was listening, the more kindly subscribers used to greet him courteously before beginning their own conversations. Another elderly person, a lady, whose isolation allowed few contacts, used to give organ recitals for her friends over the telephone and woe betide the girl at central who dared interrupt. Operated as it was by batteries, too many receivers off the hook on a circuit made it difficult for the operator to crank in a ring. A bad electrical storm could be a nightmare, for severe shocks could be carried on the wires.[viii]
For many years cottagers depended on the telephones at Little Hawk Resort or Oakview Lodge. Carolyn Hewitt remembers that their crank style telephone was on party line 19 R 13 – one long and three shorts. From the Hewitts we also know that the telephone lines were put around the Hawk Lakes in 1968. Gordon Lugsdin remembers how horses were used to put in these lines. Gordon relates the story with amazement still to this day: My dad was an avid horseman and wanted me to have a chance to sit on these workhorses. I was just a kid and I remember being on the horse's back. But what is interesting is how the big work horses got to the remote places where they were putting in the lines. They used two flat-bottomed punts from Pete Sawyer that had reinforced bottoms so they were more robust than the regular punts. The two punts were then lashed together and the horse travelled with the two front hooves in one boat and the two back hooves in the other boat. Amazing!
No doubt there are other cottagers with stories and photos of the telephone in the early years. The Lugsdins still have their crank telephone connected from the cottage to the boathouse. Even today they surprise those who stay in the boathouse when a call is made to them using the crank phone, just for fun! Don't hesitate to send in your stories too! The Halls Hawk Lakes Property Owners Association is all about Preserving and Enhancing our Lake Community. Let's preserve this history for future generations! Grandchildren today don't even know how to use a rotary dial phone!
John Hollows remembers how in the mid 70's that the "Party" line had eight users (four on each side of the line) and then four users (two on each side of the line) and then when it went down to two users (one of each side of the line) there was a mix up with his neighbour, John Logan, who because they were both named John further complicated the problem. The mix up with which ring belonged to which household continued even after the phone was answered. Not exactly a "crank" call, but somehow it does make you wonder the origins of that expression.
Today we no longer have the concern of others listening in on our conversations, instead we get our share of phone scams. Many folks have simply cancelled landlines and use only cell phones in order to avoid those annoying calls about duct cleaning services. These days rather than going to the Hewitts or the Sawyers to use their phone when emergencies happened, people can be seen sitting outside the Stanhope Library on the picnic table where they can access the free Wi-Fi. Only a few places on the Hawks have the data service that we all long for and many are envious of the high speed Fiber optic lines that exist around Halls Lake. Today high-speed Internet has become a prerequisite even at the cottage, in order to work from one's seasonal residence or just to do Zoom meetings to connect with friends and family. Somehow we have developed a need to stream entertainment as well. Whatever happened to playing board games or cards around the one and only table at the cottage? Certainly there are many who still have favourite family games.
Someday others who follow us and whose lives will be even more of the "virtual" kind, may read this story and just laugh, as we do now when we read about the "Hello Girls", who were the early telephone operators. [ix] How soon will Elon Musk's StarLink take to connect us all at high speed?
Times were definitely different then. Just think of the trip to get to the lake. For the Pinch family, the first cottagers on Little Hawk, it took most of two days in 1924 from their Bowmanville/Newcastle area farm[x]. As noted above families from Windsor who came in the late 1940's and 1950's to Big Hawk, were on the road more than ten to eleven hours and it wasn't because of heavy traffic! In fact keep in mind that there was no highway 401 or highway 400. Jack Perkins is quoted in the Minden Times Supplement "This Week" in 1989 as he describes his trip[xi] from Windsor: "We came through Mitchell, Palmerston, Orangeville and then north to Bracebridge and east to Carnarvon". David Carruthers remembers as a kid that his dad bought a Model A for his mother to use while we were at the cottage for the summer. He remembers the two days drive from Riverside (Windsor) to Hawk Lake, driving about 40 mph, no 401, with my brother John and me bumping along in the back seat with a refreshed supply of recently traded comic books to occupy us on the long journey. Today we make sure the kids have devices with games or movies to keep them occupied for a few hours and still they ask, when will we get there?
Others like Vi and Norm Wallace, who came on April 17, 1946 to begin their eventual business, Highland Cottages[xii], knew that they were coming to the south shore of Halls Lake where there was no road, only a path from Highway 35, that later became Braeloch Road[xiii]. Norm Wallace wrote in his diary about that day: Left home in Swansea (Toronto) at about 5 am with the car well loaded with various articles; we arrived in Minden and Halls Lake before noon. A fine warm day. We left the car at the road and carried in some food, etc. and Lassie, our cat.
We all probably have stories about our worse trip ever to the lake, or maybe it's the trip home on a long weekend. No matter how bad your trips have been, no doubt they can't match this recount of C.R. Weld in the 1850's:
Holes masked by mud were of constant occurrence. Into these our vehicle plunged with a crash, threatening to reduce it to atoms, but…. it was dragged out by the willing horses, apparently uninjured. Worse than the holes was the dreadful corduroy composed of large logs, over which we bumped with a dislocatory motion rendering it difficult to keep one's seat. To avoid bad places we frequently turned aside into the bush preferring to rough it through the tangled underwood and occasionally drove in the bed of a river, an easier route. So bad was the road that a dozen miles drive kept us five hours on the way.[xiv]
And then there are the stories of driving to the Algonquin Highlands in the fall and winter or even driving on the ice. It seems that the shoulder seasons when the water levels were not high enough for boats to pass through the Narrows between Big and Little Hawk might have been the most challenging. As Richard Dennis relates, I remember those days in late autumn when we would push, pull, and prod the flat bottom boat through the Narrows, and it only required about three inches of draft. Especially fun when it was two degrees Celsius and a heavy downpour added to the enjoyment.
Rick and Nancy Lowes have heard stories of local guys having to make a scary drive across the frozen lake just in that narrow window of time before the ice break-up, as part of their logging jobs. This would have been in fact at a time when parts of the lake may not have been frozen enough to support the weight of the truck. Scary, indeed! And then there are stories of a team of horses and a buggy going through the ice on Halls Lake. A sighting by Bob Hodgins many years ago of a horse's skeleton on the shore in Mosquito Bay (Big Hawk Lake) also seems to support the rumour of a horse that died when it fell through the ice. None of this is confirmed, but it certainly does make you wonder. These days we hear stories about snowmobiles going through the ice every year and sometimes with deadly results.
Some families who came in the winter had neither snowmobiles nor the nerve to drive a car across the lake. Bob Hodgins remembers that "Pete Sawyer would run us in by snowmobile and he would sometimes tow Lyn, my twin sister and I behind on skis.'
Be it winter or summer many kids today don't often have the skills to ski as they did in the past. Skis were also not easy to come by, back in the day. Gordon Lugsdin remembers that his father fashioned his first water skis out of white ash. First he made a mould and then steamed the wood to get a bend in it and then attached metal front and toe pieces. One didn't have life jackets back then but as Gordon remembers he had to be able to swim quite a distance to satisfy his mother's requirements before he was allowed to water ski. He also remembers clearly holding on to the hemp rope and how challenging it was to ski behind his dad's 22 horsepower motor. The driver had to coordinate the spark and gas on one cylinder and there was no neutral, so once it started to run, you had better be holding tight to that rope.
Others, like Bob Hodgins will have more early water toy stories. Imagine the number of big headers that many adventurous friends would have taken with Bob and his sister, Lyn, brother Doug, and his Carruthers cousins, from a "surfboard" that had been made from a piece of plywood. How many others had fun with little 10 foot boats like the "Sea flea"?
While today's motors, even on our small lakes, often average 50 horsepower, this certainly was not the case in years gone by. Pete Sawyer was known to say that no one needed a motor more than 10 horsepower. Lots of older cottagers today remember the motors and boats of their parents in the early days. Gordon Lugsdin remembers his parents' boat which was a plywood punt built by his father in their Toronto basement. It had a 1.1 horsepower motor which took about 30 minutes to take the family of five from the Government Landing at Little Hawk to their cottage, along with all of their provisions.
Ann Reynolds is one lady who remembers clearly the ten foot aluminum boat with a three horsepower motor that her grandfather bought her. She was allowed to get gas at the marina and have it put on the family bill. The really surprising aspect of her story is that her grandfather bought it for her because she was left alone at the family cottage during the week at the age of 10, 11 and 12 and her parents would come back on the weekends. Her parents left her food but she also did her own fishing and cooking, which was on a wood stove. She did have the companionship of her German Shepherd dog, Mike, who she fondly remembers as her protector. Of course this was at a time when there was no hydro, or other conveniences like indoor plumbing. Ann recalls that she never went out at night to use the outhouse but kept the potty under the bed. She also remembers sleeping in the middle bedroom where she felt safest in case there were bears. This story of course astounds us today, but it is not the only one of this kind on the Hawks. Ann professes that it helped to make her a strong independent women.
Many cottagers of a certain age perhaps long for a simpler time, when one was excited to see another boat, as opposed to losing count of the number of boats that go by in an hour. Certainly one made fun and excitement out of simple things, but as has been said already, times were different back then. Now even the watermelons don't have seeds that you can use to have a seed spitting contest! But the one thing that hasn't changed across the decades is our love for these precious Algonquin Highlands. It's certainly worth the drive to get here!
---
[i] See story Roots Go Back 100 Years for this Pinch Family Member
[ii] See story – The Brereton Cottage
[iii] See story – Sleepy Hollows written by John Hollows
[iv] See story – Camp Kawabi – The Early Years – 1955-65
[v] See story – So what happened to the parking at Little Hawk? The Early Years of Oakview Lodge and Little Hawk Resort
[vi] See story – Highland Cottages, A Labour of Love on the south shore of Halls Lake
[vii] Reynolds, Nila In Quest of Yesteryear. Lindsay: The Provisional County of Haliburton, 1968, page 329
[viii] Ibid, pages 329-331
[ix] See pdf link to The Telephone Girl, Minden Times newspaper article, from 1991 permission granted from Jenn Watt, editor
[x] Memoires of Little Hawk Lake by Elsie Pinch Gilson, July 2007
[xi] Wilson, Susan, "It's worth the trip from Windsor to Big Hawk", The Minden Times article, 1989
[xii] See story – Highland Cottages, A labour of Love on the South Side of Halls Lake
[xiii] See story – Name that Lane
[xiv] Reynolds, Ibid, p.36
Story written by Joan Hamilton, with thanks to Jan Bertram and Cindy (Bertram) Chambers, David Carruthers, Neil Catherwood, Diane Dennis Rock and Richard Dennis, Carolyn (Hewitt) Fuerth, Dale Hearty, Don Henderson, Larry Hewitt, Bob Hodgins, John Hollows, Gordon Lugsdin, Jim Moore, Oakview Lodge, Dorothy (Wallace) McCord, Leigh Nelson, Elsie Jean (Pinch Nelson), Ross Rawlings, Ann Reynolds, Karen Reynolds, Guy Scott, John Waller and The Minden Times.