Diane and Richard at Big Hawk Lake, 1952
Our father, George Dennis, was truly an adventurer. At the age of 19, he had left London England where he was born in 1904 and roamed across Canada, Central American and the United States before settling in Los Angeles, California. In fact, he was in that city when Pearl Harbor was attacked and he enlisted in the US Army five days later. He even received the Bronze Star for the military action that he participated in when the SS Leopoldville was torpedoed on Christmas Eve in 1944 in the English Channel, but that's a story all on its own. [i]
After his discharge from the army in November 1945, he headed to Winona, Ontario where he had relatives and where he met Lillian, who later became his wife. As mother Lillian often joked in later years, when he proposed he said, marry me and you will live an exciting life!
Our parents first lived in Toronto after they were married. Our mother had grown up in Grand Mere, Quebec but had moved to Toronto to live with her older sister. She loved the outdoors and wildlife as well as outdoor activities like skiing and golfing, even looking at the stars. This appreciation of nature prepared her well for the excitement of the Haliburton Highlands.
Our father did mention that as a young lad growing up in the east end of London and playing in Epping Forest, he dreamed of living in the Canadian woods. Our father may have become aware that the government was selling land in Haliburton County from other hunters when he was on a wolf hunting trip in Sydenham, Ontario in March 1946.
By April 9, 1946 they had put a down payment of $10 for two lots on Big Hawk Lake. They paid $275.40 ($3,867 in Canadian dollars in 2020) for 5.36 acres.
Many people started buying lots on the lake during the mid to late 1940's. Already established lots were the Government House, Scott's Point, occupied by the game warden, Wally Scott[ii] and the American Boy Scout Camp, later known as Camp Kawabi[iii]
We travelled to the lake in a pickup truck and paddled our cedar strip canoe from Oakview Lodge on Little Hawk Lake to our place on Big Hawk Lake. The photo above was taken in 1949 when our family would sit in the front seat: our parents, Diane age 2 1/2 years old, and Richard 5 months old. Of course, there were no seat belts or infant car seats in those days.
We lived in a tent with a wooden floor during the summer months for three years. Our mother cooked meals on a griddle over an outdoor camping fire. We still have that griddle, and we still have memories of the aroma the Luzianne coffee percolating in the aluminum pot.
Our lots were already cleared of most trees because the point was a former logging camp. When our father wanted to cut down a tree, he used a crosscut saw with our mother pushing and pulling.
Our father had experience in residential construction. He had built his own house in Los Angeles, California in the late 1920s. Therefore, building the two cottages was not as difficult for him and our mother even though there was no hydroelectricity for lights and refrigeration, no telephone, no backhoes, no high-powered boats, no chain saws—they just had muscle and elbow grease. Our parents would hand saw the lumber and use a brace and bit to drill every hole. Men were men and women were men too!
The time-consuming part of the building was transporting lumber from Oakview Lodge on Little Hawk Lake, through the Narrows that many times was shallow, and then to our property. The lumber would be stacked either on a cedar strip canoe in the early years, a flat-bottom boat, a Peterborough boat in the early fifties, and a skiff our father assembled from a kit in the mid-1950s. Our father probably bought most of the materials from Carnarvon Lumber. Back in those days Carnarvon Lumber had a mill so that they produced our cottages exterior 2 x 8 imitation log siding.
Our early years on Big Hawk Lake were defined by our parents working hard all day, and we children playing freely after our chores were done. Two chores we especially disliked were cutting the grass with a sickle and planting hundreds of white pine seedlings. At this time the government was encouraging the replanting of trees. These seedlings were actually purchased from the Ontario Ministry of Natural Resources at just a penny a piece. Our parents being true conservationists, bought into this program and we got to do the work! Unfortunately, most of those pines have died of white pine weevil.
For the most part we had to learn to make our own fun. As most kids we built forts in the woods, learned how to swim, and somehow knew when it was time to come home for lunch and dinner. One of our favourite activities was "water skiing". Our father made a disk from plywood about three feet in diameter and we stood on that disk to ski behind our boat. The disk would slice in the water from one side to the other and then submerge and we struggled to stay on it. The challenge and competition between us siblings was to ski on the disk, land on the dock by sitting on it, and not get wet. When one thinks of it now, it was quite dangerous. Those were the days!
During the 1950s, we would stay with our mother at the lake all summer, while our father worked at General Electric in Peterborough. Fridays were special for us. That day every week we had to bathe, and our mother would bake desserts. Then in the evening we would go to Oakview Lodge to pick up our father for the weekend. There would be many people from the two Hawk Lakes who followed the same ritual waiting on the government dock on Friday nights. In some cases, these times spent at Little Hawk Landing turned into long-time acquaintances. In other cases, it was neighbours helping neighbours, as was the case with Bob Hartry helping Lillian Dennis when a pin was sheared from her Viking motor in the Narrows. Bob came to the rescue.
As children we also had the responsibility of going by boat for groceries. We were even encouraged to go visit Mrs. Davies, whose house was at the bridge on Little Hawk Road.[iv] After boating to the landing at Little Hawk, it was about a mile to walk, all on our own. These days parents would not think of sending the kids on their own to spend an hour or more with someone, when you haven't even sent a text or made a call to see if that was okay. But times were different then!
There was one week that we, Diane (age 10 or 11) and Richard (age 8 or 9), stayed at the lake without our parents. The Barfoot family, our friends and neighbours, kept an eye on us. Diane cooked the meals on the wood stove. We were allowed to take the flat-bottom boat out on the lake. During that week, Richard become an expert on fiberglassing holes in that boat!
Another memory is our parents would have parties with their lake friends during the summer. The kids would be relegated to the "little cabin" while the adults partied in the "big cabin". We recall we kids sneaking a peek through the picture window and watching them sing and dance to 78 records playing on a wind-up record player. Some of the records were "The Wild, Wild Women" by Spike Jones and his City Slickers 1942, "I'm My Own Grandpaw" by Tony Pastor and the Clooney Sisters 1948, and "Mockin' Bird Hill" by Patti Page 1951.
Some of the great neighbours at Big Hawk included the camp staff at Kawabi, which meant in the case of an emergency there was a safety net built in, as there was always a doctor at the camp. Our father had to take our mother there once, when she seriously injured her finger while cutting the grass with a sickle. Thanks to the Camp Kawabi doctor she had her finger stitched and all was well.

Our parents not only enjoyed the lake in the summer, but also in the winter. We would hike in from Oakview Lodge and stay for a few days with no insulation and single-pane windows in the cottage. The only source of heat came from a wood stove that also was our only cooking stove. We would hover over that stove attempting to stay warm and dry our boots and mittens. We can still smell the aroma of bread toasting on top of the stove. So delicious! We would wake up in the morning with the wood stove cold and frost on our pillows. By the way, that wood stove is still in the kitchen and still keeps us warm during the cooler seasons.
No matter the season it was always a pleasure to see Pete and Mabel Sawyer. They became real friends and our parents truly missed them when they sold Oakview Lodge. As adults, our parents would take us to Halls Lake to visit Mabel and Pete at their new home. We remember our parents were very sad when the Sawyers both passed away. It was difficult for our parents to accept that an era had ended at Hawk Lakes.
Of course, as the years passed, the changes and improvements arrived. Hydro was installed in the late 1950s to early 1960s. We now did not have to rely on kerosene lamps for light and the wood stove for heating and cooking. We bought a refrigerator and stored our small icebox and ice tongs in the tool shed. The Sawyers no longer needed to deliver ice to us. We also bought a ringer washer for clothes. We no longer had to hand wash our clothes in a tub using a washboard.
A private road was put in along the west shoreline[v]. Our family connected to the private road in 1979 when Richard's first child was born. Before that time our family valued the privacy that water access only afforded. After Pete and Mabel Sawyer sold Oakview Lodge, our parents started doing more and more business with Big Hawk Marina. We continued to use the telephone booth at Big Hawk Marina for emergencies, so we were still quite isolated.
Over the years the Lake Association has changed as well. In the early 1950s, the Hawk Lakes Association would meet in the summer at the Totem Pole at Topple's Point. Now our association is made up of Halls and the two Hawk Lakes and has met at Camp Kawabi for many years in the past. If necessary, as in 2020 during the Covid-19 pandemic, we can hold our AGM by Zoom.
As our family grew, Richard and his wife, Pam, built their own cottage on their half of the family property.
Time marches on. Our parents are gone, but memories of them are carried on by their two children, Diane and Richard, four grandchildren and eleven great grandchildren with another one on the way. That means there have now been four generations at our place on Big Hawk Lake. Despite the need in 2020 to self-isolate for fourteen days because of Covid-19, as Canadians, Diane and Richard continue to return and bring their families with them. The need to be at Big Hawk is perhaps even greater now.
Over the decades the family has moved from Toronto (ON), Virgil (ON), Peterborough (ON), Los Angeles (CA), Fort Erie (ON), Tonawanda (NY), St. Petersburg (FL), Vestal (NY), Rochester (NY), Rochester Hills (MI), Stoney Creek (ON), Grimsby (ON), Amherst (NY), the one constant was Big Hawk Lake. Every house, apartment, condo, in all of these communities where we resided is gone, but not Big Hawk Lake!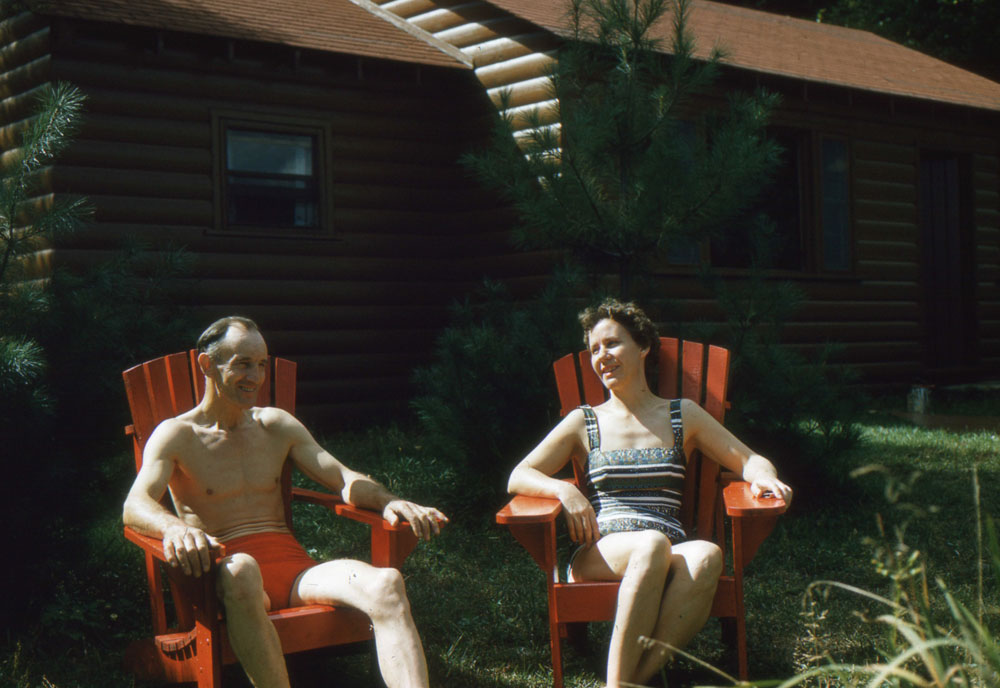 Written by Diane Dennis Rock and Richard Dennis, edited by Joan Hamilton

---
[ii] See story, Hawk Lake: the very, very early times
[iii] See story, Camp Kawabi, The Early Years 1955-1965
[iv] See story, What would it be like to be one of the first non-Indigenous women to have lived and loved in the Algonquin Highlands?
[v] See story, Big Hawk Lake Road Story