It does not even need to be a summer long weekend, when you drive to the end of Algonquin Highlands County Road 13, Little Hawk Road, and want to park your car, but find that you need to go back down the road quite a distance in order to find an empty space. Is it because the First Nations People who first came to this spot to hunt and fish did so by canoe and did not need to clear land for parking? Was it that the government back then couldn't imagine a need for a big parking lot, or do we just have too many cars today? Well actually there used to be a large parking area and even a public campground where Oakview Lodge now stands. It was meant to be there in perpetuity for the early cottagers but somehow life happened and plans changed. This is the story of the Sawyers and the Hewitts and the beginnings of Little Hawk Resort and Oakview Lodge.
It began back in the early 1930`s when the Pinch families were the only 'cottagers' at that time. There were two small boathouses near the water`s edge at Little Hawk Landing in those early years. They had been built by brothers Alf(Alfred) and Sam Davies, early settlers who had come from Wales in the early 1900's. [i] We know that a nephew of Rose and Sam, Alf's son, Ern Davies (Davis) was a fishing guide for early visitors to Little Hawk, like the Pinch family members.[ii] . Fishing and hunting were popular even as far back as the 1920's in the Halls and Hawk Lakes area and attracted people from quite a distance, Ohio even. It seems logical that there was a need for a lodge and general store, with all of these people coming to fish and hunt. Hence Walter Johnson and his second wife Queenie (Frederica Bancroft) built a structure that they called 'Gleneda Inn' (sometimes written Glenida or Gleneada Inn) just to the west of the public campground, the government landing and parking area, that was at the end of the logging road that we now know as County Road 13 or Little Hawk Road.
Walter Johnson's family had been in the Algonquin Highlands (formerly Stanhope) area for several years, having arrived about 1876. Walter was born in Stanhope, the youngest of seven children. Walter's first wife Mary Jane Faulkner died in 1918 at the age of 31 leaving six children behind. The youngest son of Walter and Mary Jane was four year old, Elvin. In those days when such tragedy happened, a widower would give his young child to friends to rear in order to continue to work and raise the older children. It must have been a difficult time letting your youngest son as well as your baby daughter be raised by others. It also helps to understand the times and that people did what they had to do to survive. You can read more about Elvin Johnson in another story.[iii]Walter Johnson eventually remarried Queenie (Frederica Bancroft) in 1928. According to some, Walter advertised in the newspaper to find a new wife and some believe that Queenie actually came from Newfoundland in answer to this ad and married him in 1928. Others know that she was a school teacher and had been living and working in Toronto when Walter was looking for a wife. She too, had lost a spouse. From her previous marriage, it is interesting to know that she had a son, William Bancroft Oakley. This son actually married Walter's daughter, Ida Johnson the same year that Queenie and Walter were married. It is Queenie who plays a significant role in this story.
How Walter and Queenie got title to the land where Little Hawk Resort now stands is not exactly clear. Often in those days it was merely "squatters' rights". If you cleared the land and put a structure on it, it became yours. Walter's sibling, Rose, who was closest in age to him, already had a cabin with her husband Sam Davies on the waterfront at Little Hawk, so it doesn't really seem surprising that Walter would decide to build a structure and start a business, since hunters and fishermen were starting to come to Little Hawk. However the very unfortunate part of this early history of what became Little Hawk Lodge, is that Walter died of pneumonia in 1936 at the young age of 55. One can only imagine that it would have been too difficult for his widow Queenie to try to make a go of this business on her own. In fact she moved back to Toronto and she let Walter's sister's (Ann Johnson Upton) daughter, Mabel Upton Sawyer and husband Pete Sawyer run the business for her.
Even before she married Pete Sawyer, Mabel Upton had been working at Gleneda Inn for Mrs. Walter Johnson, most often referred to as Aunt Queen or Queenie (Frederica) Johnson. Pete would have come to know Mabel as he worked as a hunting and fishing guide for Walter and Queenie. Pete, whose real name was Benjamin Gordon Sawyer was the son of Benjamin James (Ben) Sawyer (1873-1960) of Maple Lake and one of ten children. Pete was born on Feb 10th 1905 and it seems he grew up mostly on Maple Lake. The Sawyer family eventually had a lodge on Maple Lake that some say resembled Oakview Lodge that was later built by Pete. However let's not get ahead of ourselves with this story.
According to the memoirs of long-time Algonquin Highland's resident, Jim Moore, Pete (Benjamin Gordon) Sawyer used to walk through the bush from Maple Lake to visit Mabel Upton, during this time when she worked at Gleneda Inn. Pete and Mabel were married in 1938. As noted above, Walter Johnson passed away in 1936, and it must have seemed natural that Mabel and her new husband Pete would help Queenie to run Gleneda Inn. In fact the story goes that they believed that Aunt Queen (Queenie Frederica) was going to leave the Gleneda Inn to them.
On the other side of this tale, Queenie, moved to an apartment near Davisville in Toronto after Walter passed away. This apartment was not far from the flat of Walter's newly married nephew, Dick (Richard Henry) Hewitt and his wife Evelyn (nee Cowen). Dick and Evelyn of course came to visit Queenie. It is not clear how long the discussion lasted but Queenie managed to convince Dick to buy the Gleneda Inn for $4,000.00, which he did in 1946 with a loan from the DVA (Department of Veterans' Affairs) and Ev's meager salary as a nurse. As Peter Hewitt points out Queenie would have known that Dick had Department of Veterans' Affairs money and that Pete Sawyer had none. In 1946 that selling price must have seemed like a fortune. However it did suit Dick as he was discharged from the army in 1943 and he really didn't like living in the city, according to information from his family. In fact Dick stayed in the Algonquin Highlands area and worked at logging camps in the winter, while initially at least, Ev came back to the city and worked as a nurse in the winter months.
In the early years, Gleneda Inn included a stable on the hillside for horses, a large cottage and a few one room cabins. Dick and Ev Hewitt changed the name from Gleneda Inn to Little Hawk Lodge and ran the business in the summers. It even became a summer post office for many years (1947-78).
Meanwhile Pete and Mabel Sawyer, who had worked for Queenie for several years, now had moved into the cabin of Rose and Sam Davies that was beside Little Hawk Lodge. They still wanted a place of their own, so they built it! Oakview Lodge was born! Oakview Lodge still stands today right on the land that used to be the parking lot for the public campground.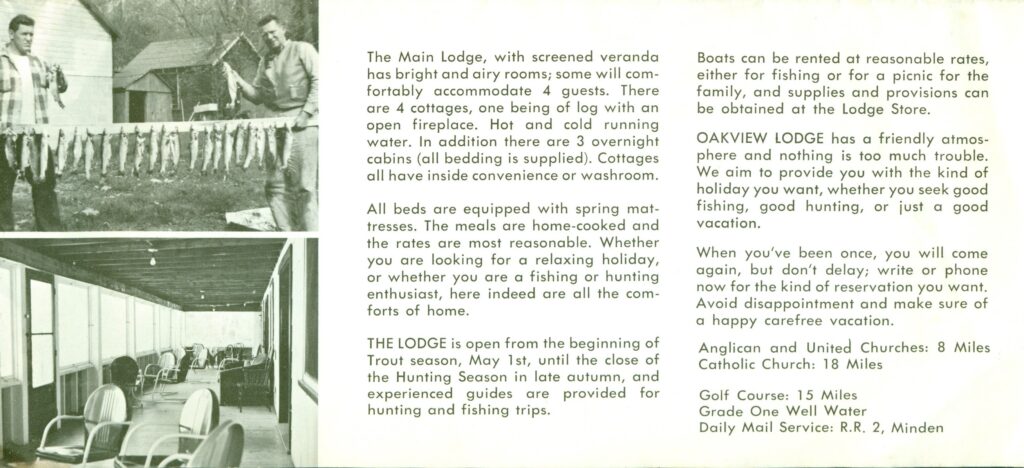 Jim Moore, at first a cottager who in adult life became a local, tells that he and his father watched the excavating for Oakview Lodge being done by two large draft horses and a bucket. Eventually a structure much like Ben Sawyer's place on Maple Lake was constructed and named Oakview Lodge. The name is said to have been inspired by the oak trees that could be seen at the front. Greg Pinch relates that his grandfather, Ted (Edward) Pinch helped with the construction of Oakview Lodge. Others say that Bobby Davis, son of Sam and Rose also helped with the construction of Oakview. It is clear that there would not have been many others around to help.
Mabel Sawyer and her husband Pete continued to operate Oakview Lodge for many years. Dick Hewitt and Mabel (Upton) Sawyer may have been first cousins, (their mothers were sisters) but one can't say they were the best of friends. Some say it was Dick and Pete who didn't get along. Others, like Jim Moore believe that they were just fine and even went fishing together. Still others say that it was the two women who didn't get along, but what does it really matter as both businesses served the Hawk Lakes community for many years. Many folks, like Ann (Jenkins) Reynolds would agree that the Sawyers and the Hewitts were all good people. This is a part of their stories.
It was not an easy life for the Hewitts taking over the Gleneda Inn, which they now called Little Hawk Lodge. Dick and Ev's first child, Vern was born in June 1947 when they were just getting started. Ev was mostly running the lodge while Dick was a guide for visiting fishermen and hunters. As the area was just beginning to open up to cottagers, one of Dick's other jobs was felling dangerous trees for folks who were building cottages. It must have been a busy summer with a newborn son. Then following the summer season, Ev no longer went back to the city to work as a nurse, but rather stayed up north, with baby Vern and worked as a cook at the sawmill on Halls Lake. Meanwhile Dick was working at a logging camp on Crab (Nunikani) Lake. He also prepared meals for the loggers at this camp. Ev Hewitt continued to work as a cook at the sawmill when son Peter came along in 1948, taking both kids with her. In the winter of 1947 life had became even more difficult, as they lost everything at the lodge in a fire. Thanks to Dick's military experience they were able to remortgage their property with a government (DVA) loan and rebuild Little Hawk Lodge. An uncle, Victor McBrien, helped with the rebuild. The original Gleneda Inn structure had three bedrooms and stood on what is today the Little Hawk Resort parking area. The new structure was built just to the west of the original.
Whatever happened to Queenie? It seems that after receiving the $4,000 from Dick and Ev Hewitt, that she lived her days out in Toronto, where she owned a rooming house or apartments. Jim Moore remembers Queenie fondly and in fact credits her for calling his mother and giving Mrs. Moore a heads-up about buying the island on Little Hawk before it was bought up by others. That was in 1937. Later the island became known as Moore's Island.
There are many stories that circulate among long time cottagers about Oakview Lodge and Little Hawk Lodge/Resort. Elsie Adelaide Pinch Gilson who first came to Little Hawk Lake in 1924 when she was only five years old, writes in her memoirs[iv]:
"During the time that I was absent from the lake (the WWII years) Walter Johnson had died and the family sold out to the Hewitts: Dick and Evelyn. Pete Sawyer had built on the public campground and called his place "Oakview Lodge". Both had built large structures with rooms to rent out to summer guests. The Hewitts would later build several rental cottages in front of their main building. By then they had several children and a store so they didn't take guests into their "home". Pete also had a store at his lodge so we were able to get some groceries right at the lake. When we first cottaged we had to bring all food from home or make the trip to Minden which was 17 miles away. And at that time the roads were bad so we didn't get out often. One of our chores as children was to walk the mile to the Hawk River Bridge and buy milk from Sam Davis."
As Carolyn Hewitt Fuerth relates the two businesses operated side by side for about twenty-five years. For both families it would have been a difficult life. There was no hydro in the original Little Hawk Lodge, however the rebuilt structure after the fire in 1947, did have hydro. It did not yet have running water though, except as Peter Hewitt says, for the kids who ran down to the lake and back with the buckets of water. Dick Hewitt had a yoke that he could put on his shoulders so that he could carry more than his running kids. No running water also meant outside toilets (until 1954). It certainly would also have been a challenging life for the Hewitt children. Not only were they the source of running water, they also bailed boats, cleaned cabins, rowed out to get the boats that were moored at buoys as there were no docks in the early years.
The Hewitt children also pumped gas, provided a taxi service for folks coming to visit cottagers and the three oldest boys all took fishermen or hunters by boat up to the camp on Red Pine, which was called Paint Lake back then.
Dick Hewitt would stay for extended periods of time at this camp on Red Pine. He had built a cabin there on crown land and it was also used by Lands and Forest employees, including the Game Warden as well as some timber crews from time to time. The Hewitts, like Pete Sawyer had an extra boat or two that they kept at the nearby lakes so that they didn't need to portage a boat, just the supplies. Peter Hewitt remembers also having to carry the motor on his shoulders as well as having an army backpack with a few supplies like flour and canned stew for his father. Times were definitely different then. The Hewitt boys started driving boats from the age of six and believe it or not, they also went barefoot all summer. It is interesting too that the Hewitt boys learned how to chop wood from the early cottager, Alpha Warren Pinch. In fact they learned to do all sorts of jobs for cottagers. Larry Hewitt remembers the first cottage he helped build with one other guy. He was only 18 at the time.
The life and times of Dick Hewitt had been difficult for a very long time. He was the second youngest of ten children and had lost his mother when he was just two years old. His father passed just before his 12th birthday and as a very young teenager he was fending for himself, working in the bush and doing whatever jobs he could find to survive. So it is not really a surprise the Dick was able to stay at the small cabin on Red Pine and live off the land for the most part. Nor is it a surprise that Dick had chosen to make a go of it with Little Hawk Lodge and logging in the winters, as opposed to a job at a woodworking shop in Toronto. Having said that, Dick did have to spend several winters at the Sunnybrook Hospital in Toronto because he had a rare condition called Raynaud (or Reynard's) Syndrome that caused episodes of reduced blood flow. In fact Dick had some toes and one finger amputated as a result of the disease. Larry Hewitt relates that his dad always knew that he would die young and in fact Larry feels that his dad helped to prepare him for that time.
Pete Sawyer was the son of "Long Ben" (Benjamin James) Sawyer (1873-1960). Pete's father, as indicated in the Algonquin Heritage site[v] was twice County Warden and also Reeve of Stanhope from 1911 to 1948. We know from his obituary that Pete Sawyer was not only a well known and popular Stanhope resident, an ardent hunter and fisherman, but also that he had been a Stanhope Reeve for some time as well as a Councillor for a number of years. It is interesting to note that Dick Hewitt was a Councillor at the same time that Pete Sawyer was Reeve. Both men worked to make Stanhope Township, as it was known back then, a better place.
In many ways it seems that Pete Sawyer followed in his father's footsteps. From Nila Reynolds book "In Quest of Yesterday"[vi] we know that Long Ben was very well-connected. In fact as Nila Reynolds writes: It was the proudest boast of B.J. Sawyer…. that his township financed and built the first telephone system in the Provisional County of Haliburton". Pete no doubt learned from his father how to be a good trapper, hunter and fisherman as well as the importance of being well-connected. Furthermore Pete's father had erected a summer lodge on the north shore of Maple Lake, so it seemed almost natural that Pete would erect a similar structure on Little Hawk Lake.
There are also stories of the Sawyers that cannot be confirmed. Ross Lugsdin in 1995 dictated his memories of Little Hawk. He believed that Pete Sawyer and his father Long Ben along with Mr. Robinson of the general store in Dorset trapped and sold furs, some of which came from 'within the bounds of Algonquin Park. They were caught and fined very heavily." On the Hewitt side of the story, we know that Dick also was a trapper and in fact had two approved lines that went from Little Hawk east to Maple Lake, which he regularly checked via snowshoes. He carried the trapped beavers back and then they were skinned, cured and sold. Peter Hewitt knows that his dad sold these trap lines to Ted Carr in the late 1950's. What is without doubt is that both Pete Sawyer and Dick Hewitt knew the area around Little Hawk very well and were more than qualified to guide those who came to fish and hunt.
Since almost all of the cottages on Little Hawk were water-access only, it was important that the lodges provided parking, as well as boat storage and docking. At one point in the early 1960's the Hewitts even removed some old structures, including a barn that had housed logging horse teams in earlier days, in order to make room for more parking. The hillside was actually blasted out and as Carolyn Hewitt Fuerth describes: the fill from that was used to build the pier for a new marina.
Having essential supplies in their stores was also important but perhaps nothing was more vital than the ice that was regularly delivered by the Hewitts or Pete Sawyer until the hydro lines in the early 1960's brought electricity and subsequently refrigerators began to appear at cottages. It must have been quite a sight to see helicopters over the area, working to install those first hydro lines and in some cases horses did the work, but that's another story.
However up until that time both the Hewitts and the Sawyers had their own flat-bottomed punts which were used to deliver ice. The punts could also be rented or in some cases purchased as Neil McGregor relates in his story.[vii] Gordon Lugsdin remembers as a kid the only time his mother let them chew gum was when they were on their way to Clear Lake for the day. They had permission to use one of Pete Sawyer's punts that he left there and Mrs. Lugsdin knew that it leaked. So she let the kids chew lots of gum that they then used to try to plug the holes .
The Hewitts' punts were green and the Sawyer's were red. Both Dick Hewitt or his sons and Pete Sawyer (and sometimes Jackie Stiver working for the Sawyers) delivered ice to cottagers around the lake before the advent of hydro lines and refrigerators on the Hawk Lakes. Many cottagers who are still around today on the Hawk Lakes will remember having ice delivered either by Pete Sawyer in his red punt or the Hewitts in a green punt. John Hollows of Big Hawk, remembers being the last on the line for the ice deliveries, which worked out well for them since they needed a somewhat smaller block of ice to fit into their ice box. John Hollows still has his ice box even, although it has been converted to a refrigerator. It is also interesting that John remembers that it was dusk by the time Dick Hewitt headed back to Little Hawk Lodge. In those days there was driftwood everywhere, especially at high water time and he remembers hearing the match sticks that Dick used as sheer pins break off, as he inevitably hit driftwood in the dark with the motor.
On Friday nights when cottagers arrived the Hewitt boys would also have the job of getting the ice in a wheelbarrow from the ice hut for the cottagers. (Notice in the photo above that the ice hut wood at the top is lighter as it was added later along with the roof. Without the roof, the sun melted the ice despite sawdust and snow.) The boys would have to uncover the ice from the sawdust that was packed around it and then dip the ice block in the lake to get the rest of the sawdust off and clean it up a bit. Vern and Peter would have been 7, 8 or 9 years old when they started doing this task. As Peter Hewitt points out, all kids had jobs. That's just the way it was. His sister Carolyn not only helped with the busy cottage change-over time on Saturdays, but she also ran the store. Carolyn writes:
The cottages were always booked solid through July and August, and Saturdays were hectic as guests left by 10:00 and new ones arrived at 2:00. Often there were seven cottages that had to be housecleaned in that four hour time frame. Spring business was brisk on the weekends, as the lake was an excellent fishing spot for trout. In the later years, with the invention of the snowmobile, winter business began to evolve.
There were also jobs to be done in the off-season. It's hard to imagine the job of using the saw to cut ice from the lake that was then packed into the ice hut with sawdust all around it. For many winters, Dick Hewitt was at a logging camp or setting trap lines and Ev Hewitt was building more punts for the following busy summer season. She also built docks and cottages in the winter time. One of the spring jobs that the Hewitt kids did was to give each of the green punts a fresh coat of paint. You had to also make sure that they didn't leak. The other major seasonal job was winterizing the cottages. As Carolyn explains:
Newspapers were taped together and then taped to cover windows to prevent sunlight from bleaching the paint and rotting the curtains. Every spring the papers were taken down and stored till fall. All the walls were washed and painting touch ups done as needed. By the time the ice was out, the cottages were ready for a new season, with the first of the fisherman.
The Hewitt children might have thought that their mother was a real go-getter or even a task master, but her actions were always directed towards making the Little Hawk Resort better. Undoubtedly the Hewitt children learned about a strong work ethic from her. In the mid fifties, Ev convinced her husband Dick that they should replace the wood stove with an electric one and that she could pay for it with all the bread, chelsea buns and pies that she made.
Carolyn (Hewitt) Fuerth remembers that the screened in porch of Little Hawk Lodge was at some point glassed in and that it was hotter than Hades in the summer, but still that made it a good place to put the homemade bread to rise, that her mother made daily. Peter Hewitt remembers that his mother baked 27 loaves a day, nine at a time, three times a day starting at 5am. Cottager Ann (Jenkins) Reynolds remembers as a kid going with a flannel sheet to Little Hawk Lodge and wrapping warm bread in it that Ev Hewitt had made. Ann then took her 10' aluminum boat with a three horsepower motor back to the cottage, hoping that the bread would stay warm on the trip.
In addition to being quite the baker and a trained nurse, Ev also learned to be a proficient builder, first from her uncle Victor McBrien, and then from her cousin Frank Chambers, who was a master carpenter.
Carolyn (Hewitt) Fuerth writes:
The business continued to grow over the years and the name changed too. Originally it had been Little Hawk Lodge and it changed to Little Hawk Resort, to reflect the change in business focus. There were several small one room cabins on the property. The cabins had a fold-away "Murphy bed", a hot plate in the kitchen area and sitting area. In the late fifties, Evelyn oversaw the remodelling of the one room cabins to make a two-bedroom cottage. She built another very large cottage on the property in about 1962, which she thought might one day be a retirement home rather than heat the lodge all winter. She bought an adjacent property and fixed up the cottage that was on it. In the winter of 1967, she built a three bedroom winterized duplex cottage on the site of a little old cabin.

The lodge had eight bedrooms, an unfinished living room, a large dining room and a kitchen. A glassed-in front veranda ran across the front of the two public rooms and the store was in front of the kitchen. Over the years the lodge evolved. In the mid-fifties one of the bedrooms was remodelled and indoor plumbing was added. A laundry room and garage were added in the late fifties when a washing machine replaced the wringer washer but there was still a mangle, used for ironing all the cotton sheets for the lodge and cottages. As the children grew many of the rooms were filled by them, however there were occasions in the summer when they would get shifted around to accommodate guests.
Jim Moore also remembers Ev Hewitt well, as she took care of the store and much of the business at Little Hawk Lodge "with all of the kids crawling around". Another cottager from those early days, Ann (Jenkins) Reynolds remembers Mrs. Hewitt fondly and tells how she had a "heart of gold". Ann remembers that she took the time to come over to their cottage by boat to let them know of the passing of Ann's grandfather. Keep in mind that not everyone had a phone, but there was a phone line to Little Hawk Lodge and important messages would be left for cottagers or cottagers would come over to the Little Hawk Resort to use the phone. Telephone lines did not come in until sometime in the late 1960's.
It would be interesting to know how many older cottagers today, remember as kids the big summer birthday party for all the Hewitt children, that Ev Hewitt used to organize. The party included a swimming race and playing in the water, as well as indoor games and of course a double-decker cake that included some coins wrapped in wax paper. Ann Reynolds was there and Peter Hewitt remembers that some of the Pinch family were there for sure.
Jim Moore also fondly remembers Ev Hewit in her green pick-up truck. She would get newspapers in Lindsay and then deliver them down the road in her pick-up truck. Elsie Pinch also described Ev Hewitt as a "hard worker". Don't forget that Ev was also a nurse. When asked about his most vivid memory of his mother, Peter Hewitt describes the time that a young man, who was on Clear Lake taking the limbs off a tree with a chain saw, in preparation for building a cabin, cut his arm "half way off". The fellow managed with the help of his young wife to temporarily bandage his arm and boat over to Little Hawk Lodge where Ev had him hold his arm up and "calm, cool and collected got him in her vehicle and drove him to the hospital (which is the building that houses Canoe FM on the Main Street) in Haliburton" Peter clearly remembers the blood everywhere and is still in awe of his mother.
Dick Hewitt's family remember him for being so good-natured with people and ready to help out. Ann Reynolds has a fond memory as a child of him also bringing her treats when he dropped off the ice, milk and bread three times a week. Dick passed away peacefully in his sleep in 1966 at the age of 56 as his circulatory system succumbed to the Raynaud's disease he had suffered with for many years. Dick's poor circulation meant that he could not tolerate the cold. He also suffered from arthritis and because of his conditions, it meant that he had spent many winters at Sunnybrook Hospital in Toronto, which was the veterans' hospital back then. In fact in 1966, he had spent the spring at the hospital. At the time of his passing, he was at home waiting for surgery to have a leg amputated. His life and the life of his family would have been complicated by his health. His wife would have had to manage by herself with the children. After Dick's death, Ev carried on the business with her growing family. While the two older boys had already started on their own career paths, as Carolyn points out, Larry at age 12 and Roger at age 10 took on lots of responsibility beyond their years. Meanwhile Carolyn, as the only girl in the family, had a lot of responsibility in the store, including ordering, pricing and stocking shelves.
When Carolyn and Roger went away to school, it was Larry who helped run the business with his mom. Larry was also going to Ryerson in Toronto at this time, pursuing Business studies. Yet he managed to get a ride back to Little Hawk on weekends to help out. No doubt the experiences Larry had growing up as part of the Little Hawk Lodge and later Little Hawk Resort and Marina, helped him gain the knowledge and confidence to start his own business, "Hawk River Construction", which now operates out of Haliburton. Larry would have had many experiences that a regular kid his age never knew. Here`s just one unique story that still stands out for Larry. It was the unintentional way he provided entertainment to the cottage kids. He remembers fondly that the cottage kids came back each year for some of this uncommon fun that he provided. At the age of 14, Larry had the job of taking the garbage down the road to the dump twice a week in his dad`s old one ton dump truck. It was a stick shift and no doubt Larry had been driving all sorts of vehicles and boats from a really young age, so it didn`t seem strange at all that he would give the cottage kids a ride in the back of the truck all the way to the dump and back. The kids seemed to enjoy the part best when the garbage slid out of the truck and they hung on to the front so that they didn`t slide too. Such fun they`d never had!
Certainly Ev Hewitt was able to keep the business going after the death of Dick. What is even more amazing that despite all she was managing, she also found the time for other important tasks. She served two terms on the Haliburton County School Board(1962-1968) and three years on the county Library Board. Her daughter Carolyn also writes about her work back at the resort:
In 1967, the side porch of the lodge was torn down and the store enlarged to become a self serve facility. Part of the front porch became a totally enclosed sunroom, the living room was finished and the kitchen renovated. By taking part of the hall space two of the bedrooms were given more closet space, as this had not been a feature in the lodge guestrooms. That was the end of structural changes to the lodge until it was taken over by new owners in the winter of 1976.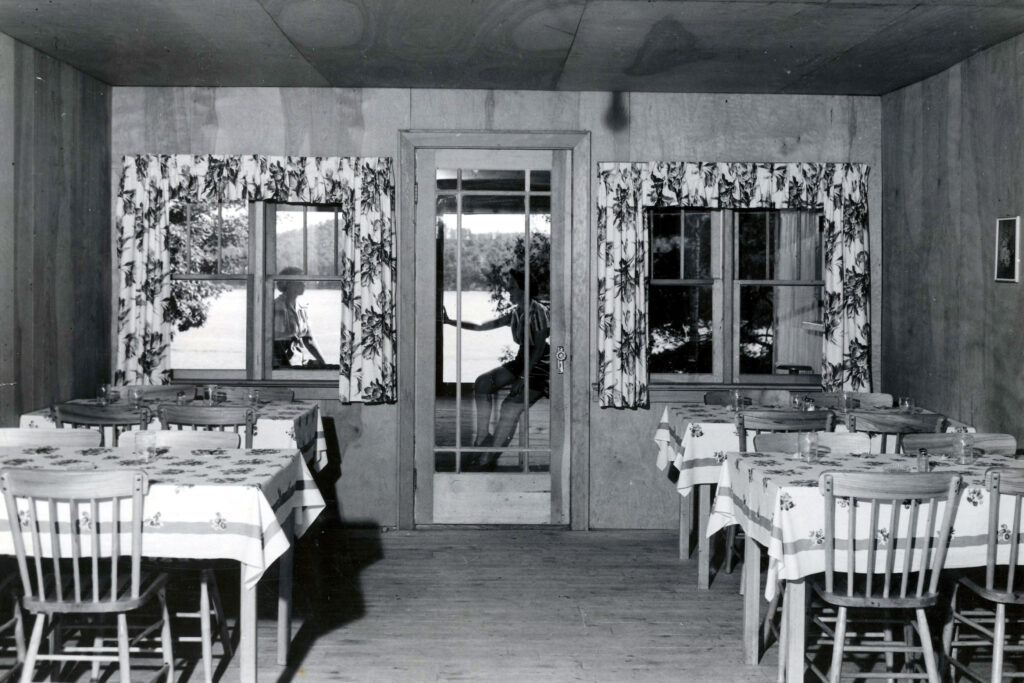 Evelyn Hewitt remarried Henry Gibson in 1970 and her new husband also helped to run Little Hawk Resort until they sold it in 1976. For Ev Hewitt it was the end of 34 years of hard work.
Pete and Mabel Sawyer also had a store and a place to eat. However they had no children. It seems that they hired from the younger generation of cottagers. Ann (Jenkins) Reynolds remembers working there for several summers from the age of 12. She recalls waiting on the eight tables, doing laundry, selling things in the small store like ice cream, candy, and basics including bread and milk as well as cleaning the rooms upstairs, scooping minnows and running the boat taxi. She even remembers that she made $13 for the week, but that there were some big tippers, particularly the Americans who would get a "free" fish from her father if they didn't catch anything and for that she pocketed a bit more money. Ann like others remembers the player piano at Oakview Lodge. It was quite a novelty that people say was Mable Sawyer's idea. Interestingly that player piano is still there, although it's a "manually operated" one now. Imagine it has a date of 1929 on the serial number. Although we cannot be sure if the player piano was Mabel's idea, we know that she was a good soul in many ways. For example, she was kind enough to take care of Gordon Lugsdin when he was a toddler, at a time when his mother needed to be in the hospital for a week. Mabel Sawyer was no doubt a busy woman already too. Diane Dennis Rock still remembers how her parents talked about the excellent pies that she made in her wood stove. The Dennis family cherished their friendship with Mabel and Pete Sawyer, as no doubt many others did as well. Undoubtedly the same could be said by others about the Hewitts.
Memories come and sometimes change a bit over time, but the fundamental nature remains. For example was the cost of the ice cream cones that Diane Dennis Rock enjoyed five cents, or were they seven cents as Gordon Lugsdin remembers. It doesn't really matter, the essence remains – the memories of wonderful ice cream treats on hot summer days. Diane personally thinks back fondly on her favourite orange-pineapple ice cream that Pete Sawyer or sometimes Jackie Stiver scooped for her. While Gordon Lugsdin has fond memories as a kid of the ice cream cones which seemed like they were a foot high. In addition to that, Gordon also recalls working for the Sawyers doing all sorts of jobs, including pumping gas and stove oil, working in the store and running the taxi boat with a ten horsepower motor on a flat-bottomed punt. However what those specific jobs were doesn't really matter as much as the core of the memory. Most important is that he couldn't believe at the time that he was being paid to have so much fun as a job. It was approximately the summers of 1965 and 1966 and he remembers clearly that he made 50 cents an hour!
Greg Pinch also remembers working at Oakview Lodge although this was somewhat later. It was the summer when he was 14.
They provided a room for me to stay in and food. I did all kinds of tasks such as, filling up boat gas tanks and then carrying them down to the dock. In the lodge at the entrance used to be a snack bar. I used to cook burgers, hot dogs etc. I used to also work on the cash. There was a store and a big candy section. After big rain storms I would go and pump out the boats that were at the dock owned by Oakview. At that time there was marine repair shop below the lodge. It was an authorized Mercury dealer. I used to also do boat taxies. I worked six days a week, with Mondays off. It was my first job and I remember it fondly.
Greg Pinch is a great grandson of the original cottager, Alpha Warren Pinch Jr. The Pinch family played another role in the establishment of Oakview Lodge. As Brian Mason relates, Alpha Warren Pinch's "Fisherman's Paradise" was at one time rented through Oakview Lodge. As Peter Hewitt also pointed out the Sawyers needed some of the Pinch property as they had no shoreline of their own. Oakview's shoreline was originally crown land, just as the parking lot had been. Two of the Pinch cabins, "Fisherman's Paradise and Horrell's Log Cabin were eventually sold to Oakview, when the Gottwalds were the owners. These cottages were resold at a later date.
The driftwood creatures[viii] at Fisherman's Paradise came down after the Sawyers sold Oakview and some say that the totem pole that Alpha Warren (Pa) Pinch created was then sold to Cherokee Lodge. It has since been removed from that location.
Gordon Lugsdin, Greg Pinch, Diane Dennis Rock and no doubt many others remember climbing and playing as kids on the driftwood creatures. Gordon also remembers that Pete Sawyer, while he and Mabel did not have children of their own, loved the children of the cottagers and especially loved teasing them. Gordon tells a story about going to Oakview in the evenings from about the age of seven with a list for milk, eggs and the like and always on the list was a Toronto Star. He would say to Pete, can I have a Star and Pete would invariably answer "No, they're not out yet" and there was always a twinkle in his eye.
Elsie Pinch Gilson writes in her memoires[ix];
In the summers of 1937 and 1938 my brother Horrell took part of the lot that the "Fisherman's Paradise cottage was on and built a log cabin…It was used for many years during the summer. In the fall quite a few family members and friends camped in it for deer hunting. Later on it was sold to Pete Sawyer. Pete added on two bedrooms at the rear and a small enclosed porch on the west side.
Both lodges needed to expand their business from the summer season to attract the winter enthusiasts. Although boat storage would bring in some revenue, it certainly would not have been enough. The winter business would include everyone from the cottagers, with snow machines, to ice fishermen and hikers with snowshoes.
As an interesting aside in this story, here's a bit more information about John Foucart and his homemade snow machine from Peter and Larry Hewitt. John and his father were family friends of the Hewitts. They had come to Canada from Belgium. John was an airplane mechanic who had worked at DeHaviland in Malton until the Avro Arrow project ended in 1959. John carried on building custom aluminum boats and snow machines as in the photo above. The snow machines were actually used in Antarctica for exploration. John actually sold seven to the British government who did this exploration. The Foucarts had built two cabins on Red Pine.
Elsie Pinch Gilson wrote in 2007:
There have been numerous owners in both lodges: some good and some bad. After Dick Hewitt died his wife remained at Little Hawk Resort for several years. She had built the marina docks and some of the cabins herself. She was a hard worker. Mrs. Hewitt kept a small store in her lodge which was a help and saved running to Minden "for a loaf of bread". There was also a butcher, vegetable, and bakery wagon that came occasionally to supplement our fish diet. She later sold out to new people. They stayed for several years and sold to new owners. Since the original owners there have been eight owners of Little Hawk Resort. The latest owners have built a new building after a fire destroyed the former main building.[x] (Please remember that this was written by Elsie Pinch Gilson in 2007)
The stories of Oakview Lodge and Little Hawk Resort continue today with new owners and ever growing businesses. We are so glad that these two businesses remain an important part of the Hawk Lake history. Best wishes to their owners.
Today's Oakview Lodge is owned and operated by Anna Schmiegelow and Greg Hebert, while Craig and Melody Esson run Little Hawk Resort, Marina and The Wharf Restaurant
This story has been written by Joan Hamilton who would like to thank all those who have helped with this story: Carolyn Fuerth, Peter and Larry Hewitt, Anna Schmiegelow and Greg Hebert, present owners of Oakview Lodge, the Algonquin Highlands Heritage Project, Jim Dixon, Elsie Pinch Gilson, John Hollows, Linda Gilson Jones, Gordon Lugsdin, Brian Mason , Neil McGregor, Jim Moore, Kimberlee Neault, Greg Pinch, Ann Reynolds, Richard Dennis and Diane Dennis Rock, and The Minden Times

---
[i] See story of Rose and Sam Davies – What would it have been like to be one of the first non-indigenous women to have lived and loved in the Algonquin Highlands?, written by Joan Hamilton
[ii] See story – Roots go back 100 years for this Pinch family member, written by Joan Hamilton
[iii] See story – Elvin Johnson Park, written by Dorothy Wallace McCord
[iv][iv] See story – Memories of Little Hawk Lake, written by Elsie Pinch
[v] See heritagemapsalgonquin.com
[vi] Reynolds, Nila In Quest of Yesteryear, Lindsay: The Provisional County of Haliburton, 1968.
[vii] See story – The Best Place on the Planet, written by Neil McGregor
[viii] See story – Driftwood, More than a Piece of our Past, written by Joan Hamilton
[ix] See story – Memories of Little Hawk Lake, written by Elsie Pinch Gilson
[x] See story – Memories of Little Hawk Lake, written by Elsie Pinch Gilson